This is one of my favourite images so far this year.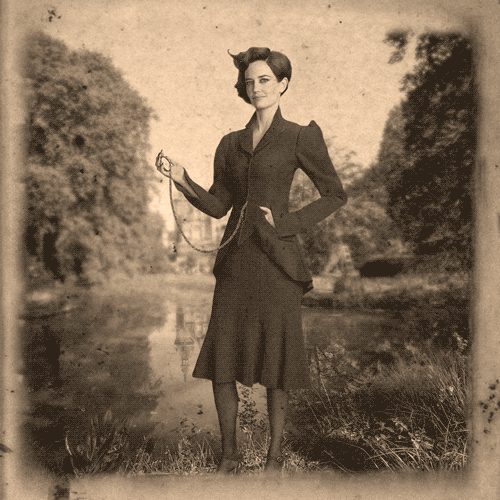 Daphne du Maurier (1907-1989) used traditional Gothic motifs. Her novels are beautifully written: dark romances, a fascination with the past, the supernatural, and the magical intermingled with the realistic. And contain psychological insight through characterisation and representation of fear and the sinister and macabre .
Her short stories, such as 'The Birds', 'Don't Look Now' and 'The Apple Tree', take Gothic themes and add new twists. 'The Apple Tree'can be read as the story of a woman haunting her husband from beyond the grave but it can also be viewed as a chilling meditation upon mental disintegration.
Daphne du Maurier was foremost a storyteller and that's what I love about her novels and short stories. They draw you in and you can't let go of the characters, ever!
The unnamed narrator, the second Mrs De Winter in Rebecca and Mrs Danvers. Rebecca herself who is dead when the novel starts and is the perfect example of a character and not a ghost, who makes not a single living appearance, but haunts the imaginations of the living protagonists. Favourite characters all.
I read all Daphne du Maurier's novels and short stories, often found preloved in second hand bookshops, before I left school and the mystery and magic of her stories and the haunting darkness and complexity of her work makes me return to them often.
Other favourite characters are Phillip and Rachel in My Cousin Rachel and Mary Yellan in Jamaica Inn.
In the same way as Thomas Hardy is forever associated with Wessex, and Charles Dickens with London, so Daphne du Maurier is forever associated with Cornwall. Cornwall gave du Maurier the freedom to write free from the distractions of London life. I have books about Cornwell on my bookshelf including Vanishing Cornwell by Daphne du Maurier.
Have a wonderful week and include magic and storytelling and writing and reading.
Elise
Thanks to Greg Buzwell, Curator for Printed Literary Sources, 1801 – 1914 at the British Library. His research focuses primarily on the Gothic literature of the Victorian fin de siècle. He is also editing a collection of Mary Elizabeth Braddon's ghost stories, The Face in the Glass and Other Gothic Tales, for publication. The text in Greg's article is available under the Creative Commons License.